About Expert Property Maintenance - A Portland Pressure Washer That You Can Trust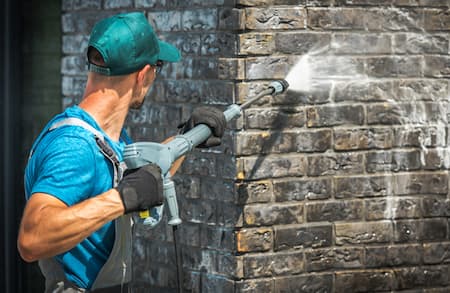 At Expert Property Maintenance, our pressure washing technicians take pride in their work and it shows - when you want top-quality pressure washing services for your Portland area home, business, or industrial property, call Expert Property Maintenance at 971-409-2790!
Expert Property Maintenance is the Portland area's locally-owned and operated pressure washing professional, and we pride ourselves on our experience, expertise, and exceptional customer service. We offer a wide range of pressure washing services for your Portland area property, including:
Roof Cleaning & Gutter Cleaning
House Washing & Window Cleaning
Solar Panel Cleaning & PV Panel Washing
Driveway Washing & Sidewalk Cleaning
Commercial & Industrial Pressure Washing
Exterior Cleaning For Businesses
Whether you need house washing for your home in Happy Valley, concrete cleaning for your church in Clackamas, or window cleaning for your warehouse in West Linn, we've got a service to meet your needs in the Portland area. Call us today at 971-409-2790 or use our online form to request pressure washing services for your property in the Greater Portland area.
Quality Technicians, Quality Pressure Washing For Your Portland Property
We have a saying at Expert Property Maintenance: Quality technicians equal quality service. That's why we take the time to ensure that our skilled pressure washing specialists are properly trained and up-to-speed on the latest industry practices.
From choosing the right pressure washing or soft washing application to maintain the integrity of your surfaces to knowing the best techniques and products to pre-treat set-in stains to the care we take with our customers and their personal property, it's easy to see why we're the pressure washing specialists that Portland trusts for quality results!
Pressure Washing, Soft Washing & More For Pristine Surfaces
Expert Property Maintenance uses a variety of applications, pre-and post-treatment solutions, and professional equipment to ensure that your surfaces are gently but effectively clean and revitalized. Our pressure washing services will bring out the best in your driveway, sidewalk, and other concrete surfaces while our post-treatment products will give them a stunning brilliance.
For more gentle surfaces like roofing shingles, brick, or vinyl siding, we use our soft washing technique and industry-proven cleaning products to eliminate organic growth and grime and restore the beauty to your surfaces. Call us today at 971-409-2790 to speak to one of our skilled pressure washing experts about the options we offer for cleaning your home, business, or industrial property in the Portland area.
Portland's 5-Star Commercial Pressure Washing Specialists
Expert Property Maintenance serves a growing number of commercial properties and industrial facilities in Portland and the surrounding areas, and we'd love to add you to our list of satisfied customers. We provide 5-star pressure washing in Portland with services like drive-thru cleaning, garbage pad washing, concrete cleaning, and more to give your business or commercial property a renewed freshness and a professional appeal.
Call our commercial pressure washing specialists today at 971-409-2790 or use our easy online form to schedule services in the Portland area. At Expert Property Maintenance, our skilled technicians take pride in their work - and it shows in all of our 5-star reviews!
REQUEST QUALITY PRESSURE WASHING IN PORTLAND TODAY!