Best Gutter Cleaning & Downspout Washing In Portland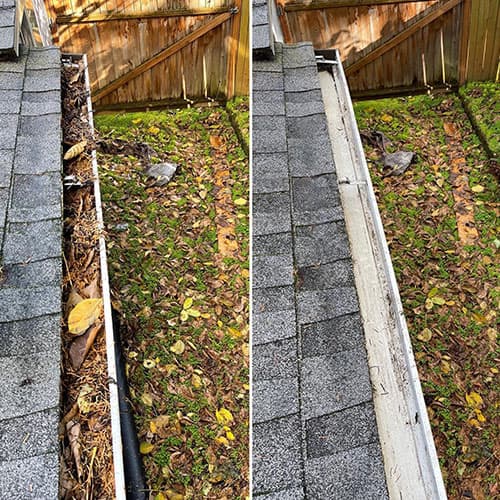 When you want 5-star gutter cleaning services for your Portland area property, the exterior cleaning specialists at Expert Property Maintenance offer quality technicians, quality service, and quality results!
Expert Property Maintenance is the locally-owned and locally-operated Portland pressure washing professional you can trust to give your home the care it deserves. Our exterior cleaning experts are well-trained and equipped with professional pressure washing equipment, industry-proven cleaning products, and the expertise to safely remove tough clogs, organic growth, and grimy buildup from your gutter systems to restore their sparkle and flow. Our gutter cleaning services include:
Gutter cleaning & brightening
Gutter flush-out
Downspout flush-out
Jobsite clean-up
30-day warranty
We offer easy estimates, flexible scheduling, and post-service follow-ups to ensure your 100% satisfaction-our skilled gutter cleaning professionals take pride in their work and it shows! When you need gutter cleaning, roof cleaning, or other pressure washing services for your home, business, or industrial property in the Portland area, call the exterior cleaning experts at Expert Property Maintenance at 971-409-2790 or use our easy online form to request services.
Downspout Washing Extends The Life Of Your Portland Roof's Surface
Clogged gutters and downspouts can lead to pooling, breaches, and intrusion of water into your roof's structure, which can lead to big problems down the road. Proper maintenance of your gutter system with gutter cleaning and downspout washing will ensure that your gutters and downspouts are working the way they're intended, removing water from your roof's surface and diverting it away from your landscaping and your home.
Downspout washing and gutter cleaning will not only extend the life of your Portland roof's surface, but also prevents damage to your flower beds, your sidewalks, and your home's foundation. Ask your gutter cleaning expert to talk with you about the many benefits of routine gutter maintenance for your Portland area property.
Portland's Pressure Washing Experts
Expert Property Maintenance offers a wide array of residential and commercial pressure washing and soft washing services to enhance the appeal of your home or business and give it a pristine freshness. Our skilled specialists have the experience, the expertise, and the exceptional customer service to provide you with quality results every time - and we have the 5-star reviews to back us up!
Our pressure washing services include:
Roof cleaning & gutter cleaning
House washing & window cleaning
Solar panel cleaning
Industrial & commercial pressure washing
Exterior cleaning for businesses
We pride ourselves on maintaining the highest standard of customer care when it comes to pressure washing in Portland. We believe that quality technicians equal quality service, and you can always count on us to provide you with the quality results you expect for all of your exterior cleaning needs.
Please give us a call today at 971-409-2790 to schedule pressure washing services for your property in the Portland area, or use our easy online form to contact us. You can trust the experts at Expert Property Maintenance for all of your pressure washing needs!
REQUEST QUALITY PRESSURE WASHING IN PORTLAND TODAY!