Bathroom Remodeling: Upgrade Your Portland Bathrooms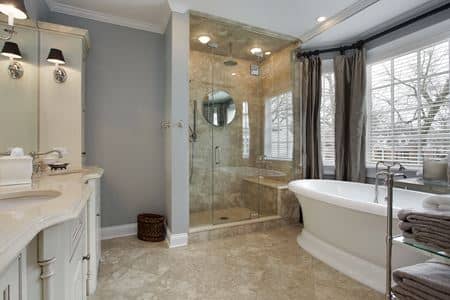 Your bathrooms are easily some of the most frequently used rooms in your entire Portland house, but despite this fact, there are many homeowners out there who suffer from outdated bathrooms that are way too small to accommodate their family's needs. With the right bathroom remodeling project, however, all of that can be changed. At Expert Property Maintenance, our team of skilled remodeling contractors for Portland has a great deal of experience helping local homeowners like you create the bathrooms of their dreams with our comprehensive bathroom remodeling services. Are you looking for a professional Portland remodeling contractor who can provide you with the high-quality bathroom remodeling services you need to create the relaxing space you've always wanted? If so, give our team of skilled professionals a call today, and let us show you the kind of quality results that have helped make us one of the most trusted names in bathroom remodeling and kitchen remodeling services the area has to offer.
In addition to the functional benefits, you stand to gain with the right bathroom remodeling project, updating an old, outdated bathroom can also be a great way to boost the overall value of your home, in addition to enhancing the comfort it provides to you and your family. The last thing most homeowners want after coming home from a long day of work is to walk into a dingy, dull, and cramped bathroom space. With the help of our skilled professionals, you can expand your bathroom space, install new fixtures, and transform it into the kind of room you'll enjoy winding down in at the end of a long day. If you have any questions about our comprehensive bathroom remodeling services, or if you would like to schedule an appointment for a consultation to go over your design, give us a call today. Our team of experts is always standing by and would be happy to assist you.
Primary & Guest Bathroom Renovation
If your primary or guest bathroom is in desperate need of a renovation, whether you're looking to create a new aesthetic or your current one is woefully out-of-date, our team of skilled remodeling contractors is here to help. With the help of our bathroom renovation pros, you'll have the assistance you need to overhaul your bathroom space and create something that both you and your guests are sure to love.
Bathroom Remodeling Experts
There are plenty of little details that go into making your current bathroom the one of your dreams. Everything from your vanity and shower to your lighting and flooring combine to make this a room that you can love, or despise. Imagine finally having a space to relax in at the end of a long and stressful day at work; we're part of being able to make this happen for you. We can make sure that your project stays on track, including your timeline and your budget. This can often mean showing you alternatives that may be more cost-effective while still providing you with the finished look that you want. We want you to be able to have a stunning, organized space in which you can finally relax instead of dread.
REQUEST QUALITY PRESSURE WASHING IN PORTLAND TODAY!