Portland Flooring Installer For Your Hardwood, Carpet, Tile, & LVP Floor Needs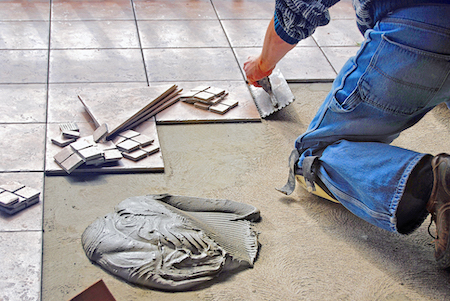 When you make the decision to have new floors installed in your Portland home, the first thing you're going to need is the name of a skilled floor installer you can trust to get the job done right. With our extensive experience helping local homeowners in the area, our team of skilled flooring installers here at Expert Property Maintenance is the local remodeling contractor for Portland you can turn to for all of your flooring installation needs. Are you looking for a professional Portland flooring installer who can provide you with the top-notch flooring installation services you need to enhance the beauty, comfort, and value of your home? If so, give our team of skilled professionals a call today, and let us show you the kind of quality results that have helped make us one of the most trusted names in high-quality flooring installation and bathroom remodeling services the area has to offer.
At Expert Property Maintenance, we understand the important role your floors play in maintaining a beautiful home and ensuring it remains comfortable for you and your family. When it comes time to replace your old floors, our team of flooring installers would be happy to work with you directly to go over some of the many different flooring options on the market and help you find the one that is going to best suit your functional and aesthetic needs. If you have any questions about our comprehensive flooring installation services, or if you would like to schedule an appointment for a consultation to look over different options, give us a call today. Our team of experts is always standing by and would be happy to assist you in any way we can.
Hardwood Flooring
Hardwood flooring is a staple design feature in many homes, and for good reason. Hardwood flooring brings a level of warmth and elegance to any interior space, and in addition to the added beauty it provides, it can also greatly increase the value of your home. With hardwood flooring, there are a wide variety of different plank sizes and wood types available, giving you a great deal of customization when it comes to finding the perfect option for your home.
Carpets
When you are looking for a flooring option to help you create a cozy and comfortable environment in your home, there is nothing that quite compares to new carpet. Despite what you might think, though, carpet is available in a number of different styles, lengths, and colors, with some of these options being better suited to certain areas of the home than others. Whether you are looking for something tough and durable to put in the heavy traffic areas of your home, or something soft and elegant to give the room a more luxurious aesthetic, there is a carpeting option out there that can help you accomplish your design goals, and our team of professionals can help you find it.
Tile Flooring
Tile flooring is an incredibly popular flooring type among homeowners all over the country, particularly in kitchens and bathrooms. Tile flooring combines durability with beauty to a degree not found with most other flooring types, so if you're looking for a way to add a touch of elegance to your home, tile flooring might be an option for you to consider.
Luxury Vinyl Plank Flooring (LVP)
Despite what you might think, the vinyl floors of today are much different than those of years past. With advancements in technology and graphics, luxury vinyl plank flooring still gives you that durable and long-lasting surface you need in your home but looks better than ever. Luxury vinyl plank flooring can mimic the appearance of other, more expensive flooring types, but it can be much less expensive to maintain and much easier to keep clean. LVP flooring comes in a wide variety of different styles, sizes, and colors, so you never have to worry about not finding the option that's right for your home.
REQUEST QUALITY PRESSURE WASHING IN PORTLAND TODAY!