Commercial Pressure Washing Gives Your Portland Business A Pristine Appeal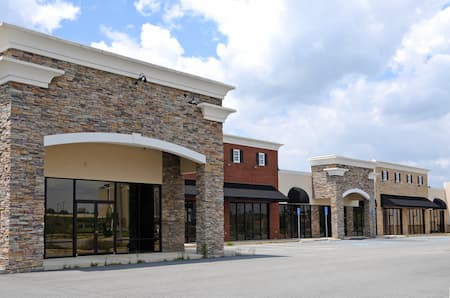 Expert Property Maintenance welcomes our new commercial clients in the Portland area, and we'd love to add you to our growing list of satisfied commercial pressure washing customers. One of the challenges of running a business is maintaining a fresh and welcoming appeal to keep your customers coming back.
We like to meet with our commercial customers to discuss the challenges they may face when it comes to organic growth, grimy buildup, and set-in stains on their building exteriors, concrete surfaces, and more. We then help them establish a routine pressure washing maintenance schedule to help keep their business looking its best.
With our industry-proven cleaning products, our well-trained technicians, and our professional pressure washing equipment, my staff can make quick work of exterior surface maintenance for any business in the Portland area. Let's take a look at the ways that commercial pressure washing can give your Portland area business a pristine appeal.
Driveways And Parking Lots
Driveway washing and parking lot cleaning will create a great first impression for your Portland area business by eliminating automotive fluids, grime, and dirt from your driveway, parking lot, drive-thru lane, and more. A divine driveway and a pristine parking lot will send your curb appeal over the top!
Sidewalks And Walkways
Creating safe sidewalks and welcoming walkways is easy when you leave it to a Portland pressure washing specialist like the pros at Expert Property Maintenance. Sidewalk cleaning removes slick organic growth, dirt, and stains from your sidewalks and walkways to give your patrons and staff a pleasant pathway to your business.
Storefronts And Windows
From large showcase windows to glass doors to transom windows and more, window cleaning can give your business a sparkling freshness that really lights up your property. We use hands-on cleaning techniques to remove grimy film and environmental pollutants from your window exteriors and interiors to highlight your Portland views and your business.
If you're looking for top-quality commercial pressure washing like sidewalk cleaning, driveway cleaning, and more for your Portland area business, call us at 971-409-2790 or use our easy online form to schedule services with the exterior cleaning experts at Expert Property Maintenance - where quality technicians equal quality service!
Building Exteriors
Our building washing professionals use professional equipment, industry-proven cleaning products, and our soft washing application to safely remove stains, invasive organisms, and other contaminants from your building's exterior surfaces including brick, concrete, siding, and more. Soft washing is tough on dirt and grime, but won't damage even your more delicate exterior surface.
Concrete Cleaning
A little pressure washing goes a long way when it comes to enhancing the concrete surfaces around your business. Dumpster pads, service areas, loading docks, retaining walls, and other concrete surfaces will shine after a visit from your concrete cleaning specialist.
REQUEST QUALITY PRESSURE WASHING IN PORTLAND TODAY!